Products to Secure Vacant Property
Whether you're looking for an impenetrable door guard, window guards or both, DAWGS has the security solutions to grant your vacant property security needs unmatched protection.
What DAWGS Does
Designed for versatility and strength, there's nothing a DAWG can't do. Our modular window and door guards are designed to fit virtually any opening, giving your building an unparalleled level of security. And since these door and window guards can only be installed and taken down with our own unique tools, you know that nobody can access your property unless you want them to.
Fast, Easy Door and Window Guard System Service
Our service teams install and remove DAWGS quickly, ensuring that you have them right when you want them and never a day longer. Powder coated in a neutral color for easy cleaning, DAWGS blend right in, giving your building inconspicuous security and a dramatically upgraded exterior appearance that lasts.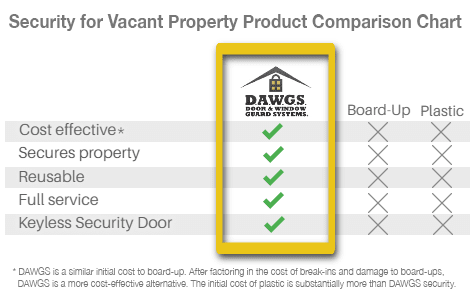 According to a report from ATTOM Data Solutions, over 1.5 million (1,530,563) U.S. single-family homes and condos are vacant, representing 1.6% of all homes. In total, the U.S. Census Bureau found that 17,019,726 homes were vacant in 2018. Compiling data from the...
Properties become vacant for a variety of reasons. The home may be on the market and the previous owner has already vacated the property, a property may be going through renovations, it may be bank-owned as a result of foreclosure or it may simply be an abandoned...