Products to Secure Vacant Property
Whether you're looking for an impenetrable door guard, window guards or both, DAWGS has the security solutions to grant your vacant property security needs unmatched protection.
What DAWGS Does
Designed for versatility and strength, there's nothing a DAWG can't do. Our modular window and door guards are designed to fit virtually any opening, giving your building an unparalleled level of security. And since these door and window guards can only be installed and taken down with our own unique tools, you know that nobody can access your property unless you want them to.
Fast, Easy Door and Window Guard System Service
Our service teams install and remove DAWGS quickly, ensuring that you have them right when you want them and never a day longer. Powder coated in a neutral color for easy cleaning, DAWGS blend right in, giving your building inconspicuous security and a dramatically upgraded exterior appearance that lasts.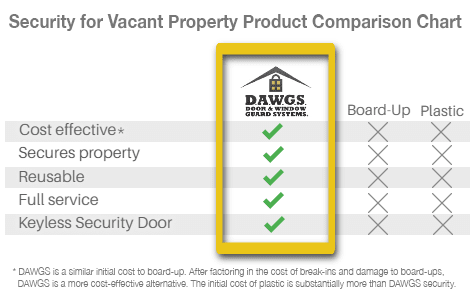 For more than a decade, DAWGS has provided equipment and vacant property accessibility training for first responders and fire departments in the areas they serve. The fire departments DAWGS has worked with includes the Chicago and New York Fire Departments. Recently,...
While property tax delinquencies have declined in the last few years, the United States is still faced with approximately $11.8 billion in unpaid property taxes. Each year, $3–5 billion in delinquent real estate taxes are offered for public sale. In a tax-sale state, delinquent taxes can be sold as quickly as within six months.