Products to Secure Vacant Properties
Whether you're looking for impenetrable door guards or window security screens, DAWGS has the solutions to grant your vacant property security needs unmatched protection.
Door & Window Security Screens – The DAWGS Difference
Designed for versatility and strength, there's nothing a DAWG can't do.
Our modular Window and Door Guards – also known as Door and Window Security Screens – are designed to fit virtually any opening, giving your building an unparalleled level of security.
These door and window security screens can only be installed and taken down with our unique tools, so you can rest assured that nobody will access your property unless you want them to.
With Steel Door and Window Security Screens – Air Gets In, Intruders Stay Out
DAWGS door and window security screens are reinforced with heavy-duty steel, sporting a unique single-piece construction that doesn't crack under pressure. In addition, our window screens come with aeration holes that let in fresh air and sunlight and are easy for our teams to insulate – keeping the warmth in colder weather.
Fast & Easy – Door and Window Protection Service
Our service teams install and remove DAWGS quickly, ensuring that you have them right when you want them and never a day longer. Powder-coated in a neutral color for easy cleaning, DAWGS blends right in, giving your building inconspicuous security and a dramatically upgraded exterior appearance that lasts.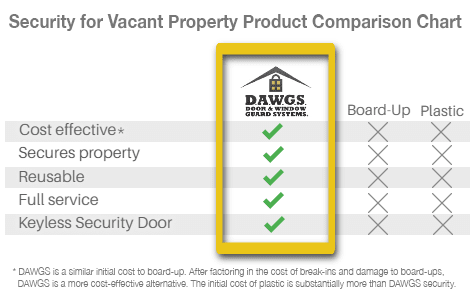 The sad reality is that property crimes accounted for 71.4% of all reported criminal offenses in the United States in 2019, including theft, drug distribution, and vandalism. Securing vacant properties can significantly reduce the risk of these crimes and the associated financial losses.
ATTOM's Q2 2023 Vacant Property and Zombie Foreclosure Report has found that 1.3 million (1,285,633) residential properties in the U.S. remain vacant—a total that represents 1.3%, or one in 79 homes, across the nation. In order to determine the number of zombie...
Single-family rental homes comprise more than one-third of all U.S. rental properties — about 16 million currently, with another 13 million new rental households expected to be formed by 2030. Since U.S. housing stock is not keeping up with this future demand, the sector should enjoy a significant tailwind given these favorable supply/demand trends. Not […]