Whether you're in new construction or rehabbing an existing property, our door and window guards protect your building and everything in it. With DAWGS, working on-site is safer than ever.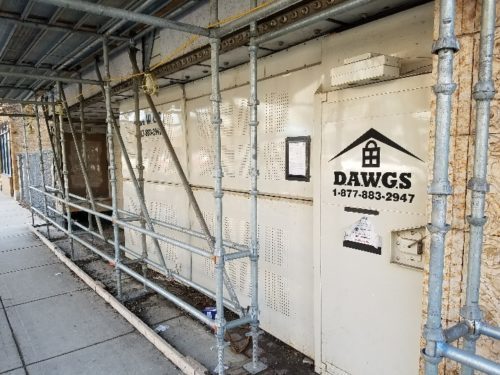 Construction work doesn't have to be risky. Before DAWGS, the only way to keep your equipment secure was to take it with you at the end of the day. With our door and window guards, though, you can store your building materials and equipment on site every day, and it will be right where you left it tomorrow. Don't waste precious time hauling equipment back and forth—lock it up with a DAWG.
Vacant and rehabbed properties are regularly targeted for theft. Protecting your investment with DAWGS keeps your property safe up until move-in day.
The time between the end of construction and the sale of a property is typically a period with high risk of theft. With DAWGS door and window guards, though, you can keep the property move-in ready without worrying about the condition of your appliances, furnaces, fixtures or furniture. Buyers know that their property will remain safe and secure, and you don't have to waste time and money dealing with insurance claims for theft or property damage. Fortifying your vacant property security with DAWGS allows you to flip your properties faster, easier and safer than ever before.
No matter the size and shape of your windows and doors, we have the DAWGS for you. Click here to contact our rental services department and learn more about your vacant property security options, or call us at 1-877-88-DAWGS (32947).