PROTECT YOUR VACANT PROPERTY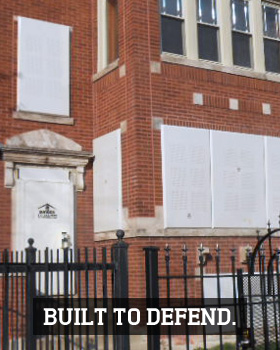 WE SECURE VACANT PROPERTY
D.A.W.G.S. (Door And Window Guard Systems) manufactures and rents attractive steel panels (Door and Window Guards) used to cover door and window openings on vacant buildings. Our vacant property security solutions eliminate break-ins and many of the other problems associated with vacant property.
Property investors, property managers, housing authorities rehabbers and real estate professionals trust D.A.W.G.S. to keep their vacant properties secure.
D.A.W.G.S is more secure than board-up at a similar price.
Full Service Installation & Removal
A vacant property is a vulnerable property 
Keep your assets safe and secure with DAWGS steel door and window guards.
Improves Curb Appeal
DAWGS neutral color and simplistic design improves property appearance with unmatched security.
Eliminates Break-ins
The result is secure assets, faster turnaround times, on-time and on-budget projects.
Code Compliant
DAWGS vacant property security solutions adhere to local property ordinances, ensuring that your properties are always up to code.
ATTOM's latest Vacant Property and Zombie Foreclosure Report for Q2 shows that 1.3 million (1,304,007) residential properties in the nation currently sit vacant, representing 1.3% of all homes in the U.S., or one in 76 homes. Among those pre-foreclosure properties,...