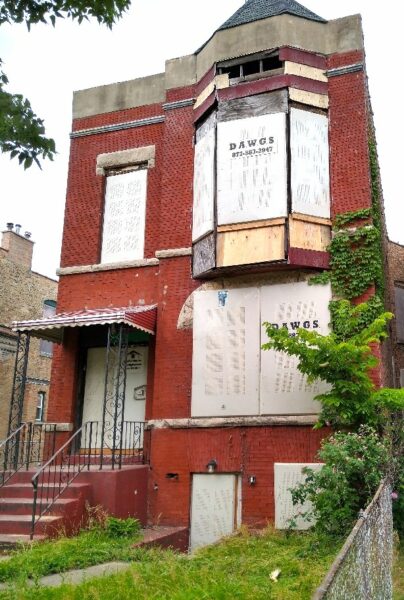 The former home of blues legend Muddy Waters, a two-flat located at 4339 S. Lake Park Avenue in Chicago, was vacant and in a state of disrepair. Muddy Waters' great-granddaughter Chandra Cooper owns the property and is leading the effort to . rehab it and turn it into the Muddy Waters Mojo Museum. When Ms. Cooper needed to re-secure and replace the plywood board-up on her great-grandfather's former residence; she turned to Chicago-based Door and Window Guard Systems (DAWGS) to do the job.
The DAWGS team promptly secured the first floor of the residence with their steel door and window guards. When the DAWGS installation team saw the poor condition of the second floor windows, they offered to remove and replace the plywood with steel window guards at no cost to the nonprofit organization. The DAWGS team, being headquartered in Chicago, was pleased to be able to support such an important initiative to honor Chicago blues legend Muddy Waters. 
The MOJO Museum 
The nonprofit, Muddy Waters MOJO Museum Inc. was established in November 2019. Its mission is to preserve the Muddy Waters legacy, his house, and story through educational experiences, music inspiration and community services.
"We want to really involve the community," Chandra Cooper, great-granddaughter of Muddy Waters said. "What that looks like is making sure we're able to bring in children and youth in there to understand what blues is and give blues education. In addition to that, we want to work with blues musicians and give them educational resources as well. One of the things I feel strongly about is empowering women in the blues space as well." 
On May 28, 2021, in a press release from the Chicago Department of Planning and Development, Mayor Lori Lightfoot announced that legendary blues musician Muddy Waters' (birth name McKinley Morganfield) first Chicago home "is poised to become an official City of Chicago landmark." "This uniquely significant structure was an epicenter of Chicago's contributions to modern blues," Mayor Lori Lightfoot said in a statement. The home served "as Muddy Waters' home for nearly two decades, providing temporary lodging and rehearsal space for countless household names that defined the art form." On June 3, 2021, the City of Chicago granted preliminary landmark designation of this house because of its significant historical contributions.
Learn More about the MOJO Museum: ​​https://www.mojomuseum.com/