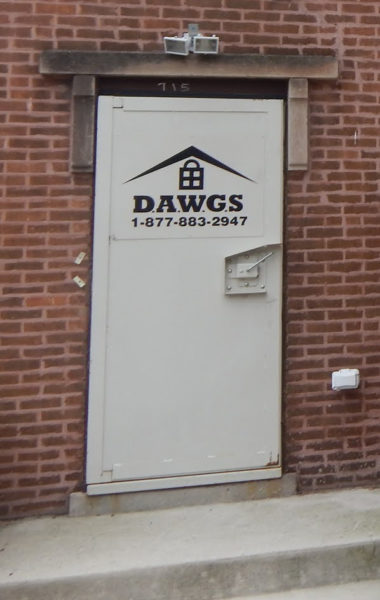 On June 12th, 2020, the City of Chicago, acting on an emergency default order, was getting ready to demolish a home in the Englewood neighborhood of Chicago. The demolition never happened because of the swift action from the Chicago-based DAWGS team.
The vacant property, managed by REO Broker Ryan Smith, happened to be secured by DAWGS steel door and window guards. Prior to demolition, the City of Chicago representative saw the DAWGS phone number on door and window guards and contacted DAWGS informing them of the pending demolition. DAWGS VP, Operations, Jim Glass immediately contacted Ryan and made him aware of the situation, providing Smith the opportunity to prevent his asset from being destroyed. 
Ryan Smith states "DAWGS really stepped up and their value was proven on June 12th, 2020 when I received a call from Jim Glass informing me that Chicago was activating an emergency default order on an asset we had secured with DAWGS. Having DAWGS on the property delayed the demo just long enough for me to reach out to the City of Chicago and prevent the asset from being razed. If it were not for DAWGS being on the property, we would have lost the asset."
After stopping the demo, the city of Chicago gave Ryan 24 hours to finalize securing the property. The building had about 15 windows and doors on the second floor which were not reachable during the initial install. DAWGS was on-site within hours, the same day, to ensure the asset was completely secure. All of this transpired on a Friday afternoon in the midst of the Coronavirus pandemic.
Ryan Smith commented, "I would never use board-up again after having the relationship I have with DAWGS. If you are not using DAWGS, you risk losing too much money."  
Ryan and his team oversee property assets in and around the Chicagoland area. Ryan started using DAWGS about 4-5 years ago because of security issues he was experiencing in some higher risk areas of Chicago. Ryan goes on to say "DAWGS provides a product which is truly unique and essential in the management of default assets, I sleep easily when my properties are secured with DAWGS."
The relationship with DAWGS does not stop once your property has been secured, they remain a business partner from installation of their product through removal. DAWGS can even remotely manage the entire process of securing your vacant properties.
About Smith REO
Smith specializes in the REO niche representing clients throughout the Chicagoland area.  Smith REO are experts in the default industry while working to provide their clients with unprecedented value. Having been involved in over 4,000 transactions, Smith REO consistently ranks in the top 1% of brokers in the country. Contact Smith REO