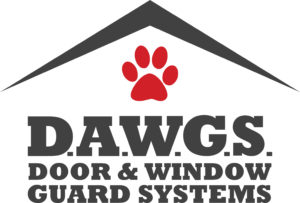 Door and Window Guard Systems (DAWGS) doesn't just keep vacant properties secure, they have saved and rescued many dogs while out in the field installing their steel door and window guards.
Paul Schornak, Eastern Regional Manager for DAWGS has himself rescued a total of eight dogs. Some were found roaming the streets near properties he was securing – he managed to coax them into his car and take them to a non-kill animal shelter.
Two of the dogs Paul rescued were chained up in the backyard of abandoned properties. These poor dogs were just left behind when their owners moved out of the property. If it were not for Paul's kind actions these dogs most likely would not have survived.
Paul has managed to get the abandoned dogs he rescued into good and loving homes. He even decided to keep one of the dogs himself, a brindle terrier mix he has named Roxy.
Currently Paul has another rescued dog living with him. He is fostering this dog while looking to find him a good home – or he may end up keeping him for a sibling to Roxy.
Paul and the rest of the dog-loving DAWGS team will continue to rescue and save homeless, abandoned, forgotten dogs they encounter on and off the job.