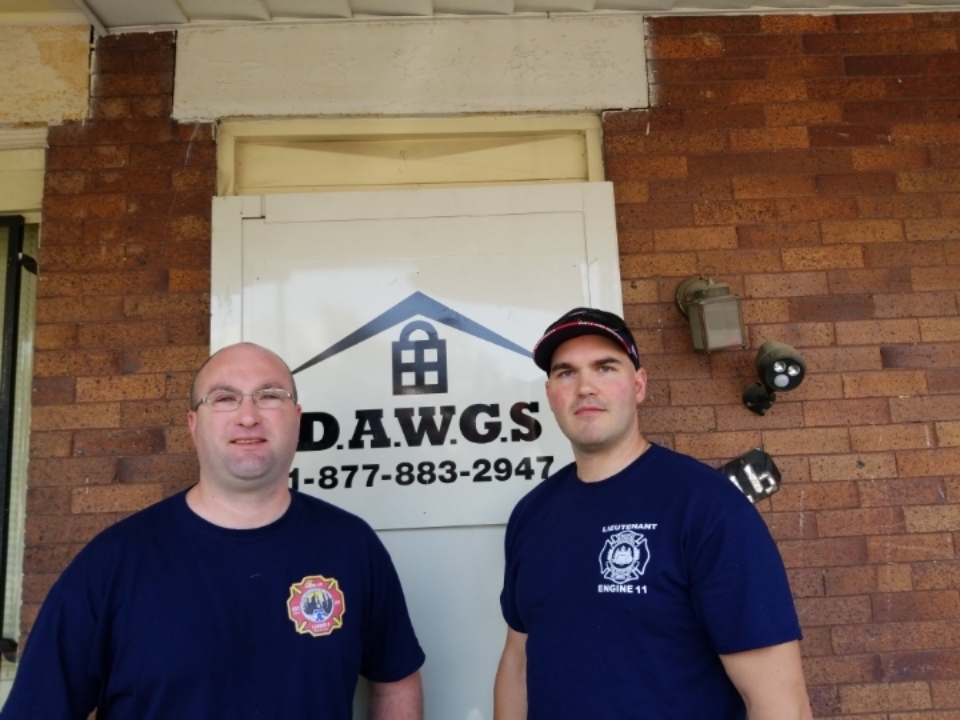 For more than a decade, DAWGS has provided equipment and vacant property accessibility training for first responders and fire departments in the areas they serve. The fire departments DAWGS has worked with includes the Chicago and New York Fire Departments.
Recently, the Philadelphia Fire Department has seen DAWGS steel door and window guards protecting vacant property throughout the city. In response to this growing trend, the Philadelphia FD reached out to DAWGS and requested support and training for their team to access DAWGS-secured vacant properties in the case of a fire or other emergency.
The Philadelphia Fire Department was rolling out a new training initiative, and added DAWGS vacant property accessibility training to their agenda. To kick off this new training initiative, the PFD sent two leaders from the training unit to meet with representatives from DAWGS at a vacant property secured by DAWGS steel door and window guards.
The DAWGS representatives provided on-site training as well as donated DAWGS equipment to the Philadelphia Fire Department for demonstration and the creation of training videos. The plan is for the training videos created by the Philadelphia Fire Department to be made available for use by fire departments and first responders in nearby cities and counties.
The DAWGS team has a longstanding belief and tradition of giving back to the communities they serve. Supporting first responders with training and equipment is an example of this commitment.
ABOUT DAWGS – VACANT PROPERTY ACCESSIBILITY TRAINING FOR FIRST RESPONDERS
D.A.W.G.S. (Door And Window Guard Systems) manufactures and rents attractive steel panels (Door and Window Guards) used to cover door and window openings on vacant buildings. As a solution for protecting abandoned houses, DAWGS' vacant property security solutions eliminate break-ins and many of the other problems associated with vacant property. The effects of abandoned buildings on a community are pervasive. Vacant and abandoned properties reduce property values. Property investors, property managers, housing authorities rehabbers and real estate professionals trust D.A.W.G.S. to keep their vacant properties secure.