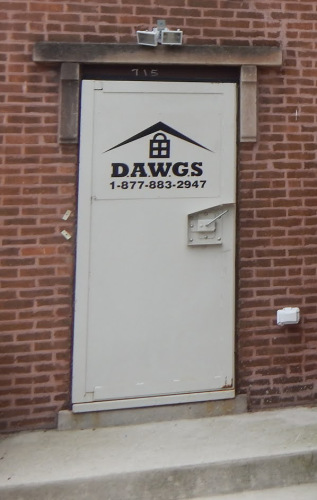 Managing a portfolio of investment properties remotely can be challenging, especially when those properties are vacant and vulnerable to criminal activity. Sally Stallworth, Owner of Sweet Home Detroit knows that all too well. As a property manager residing in California and managing vacant properties in Detroit, she experienced several break-ins, theft and vandalism with her Detroit assets. Due to time constraints and pandemic-related travel restrictions, Betty was unable to travel regularly to her properties to coordinate security. 
From her previous trips to the Detroit area, Stallworth had seen many vacant properties secured with DAWGS steel door and window guards. When she inquired with a Detroit contractor about their experience with DAWGS, she was told "nobody gets past DAWGS security". Intrigued, Betty reached out to DAWGS, Door and Window Guards Systems about securing her properties in Detroit. The DAWGS team remotely managed the entire project seamlessly. She was able to remain out of state while the DAWGS team secured her vacant properties.
DAWGS Delivered Peace of Mind 
Betty's comment after partnering with DAWGS "After experiencing break-ins and appliance theft using plywood board-up, I was ready to try another security solution. After I had DAWGS installed I was literally able to sleep better at night, knowing my properties were safe and secure". she continued "DAWGS gave me frequent updates and photos of the entire security process".
Benefits of Remotely Securing Vacant Properties with DAWGS
Remote management of property security allows owners, investors and lenders to avoid unnecessary travel and save time and money.

DAWGS impenetrable steel door and window guards stop break-ins. This eliminates the cost that can arise from stolen materials and contractor tools, as well as the cost that accompanies property repairs resulting from break-ins.

DAWGS coded door guards provide safe, reliable and managed access to the property – there is no need for cumbersome and unreliable lock boxes.
If you have a need to secure a property, locally or remotely, DAWGS has you covered with our turnkey vacant property solutions. DAWGS patented steel door and window guards eliminate break-ins.