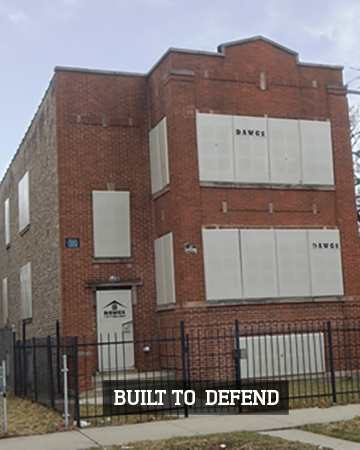 A California-based mortgage lender recently experienced break-ins, squatters and other security issues with their Chicago property portfolio. Rather than send a representative to Chicago to coordinate the eviction and security of the properties, they turned to Chicago-based, vacant property security experts DAWGS (Door and Window Guard Systems) to completely manage the process.
DAWGS Took Care of Everything
Once the lender reached out to DAWGS, the DAWGS team of vacant property specialists managed the entire project seamlessly. The customer was able to remain out of state while a DAWGS project manager coordinated with multiple vendors on the lender's behalf to facilitate the eviction of default tenants and empty the property.
Once the property was empty, DAWGS installed their patented steel door and window guards. DAWGS patented door and window guards prevent break-ins, while the coded-doors allow for managed access to the property. Throughout the process, DAWGS kept the customer apprised of the progress at each property through constant communication, including photographic status updates.
Because several of the lender's Chicago buildings were multi-family properties, DAWGS secured each individual unit as default tenants were evicted. The properties were then converted to fully-secured buildings ready to be safely and securely rehabbed.
Lender Increases Profits With DAWGS
DAWGS not only provided convenience and peace of mind by remotely managing and securing vacant property for the lender's Chicago property portfolio – DAWGS was able to decrease expenses and increase profit dramatically:
Remote management of the property enabled the lender to save time and money that would have been spent sending a representative to the property locations to manage the eviction and security process.
DAWGS security doors and window guards are made of impenetrable steel to stop break-ins. This eliminates the cost that can arise from stolen materials and contractor tools, as well as the cost that accompanies property repairs resulting from break-ins.
DAWGS coded door guards provide safe, reliable and managed access to the property. This means contractors can leave their tools and come and go as needed. Real estate agents and buyers are guaranteed access to the property – there is no need for cumbersome and unreliable lock boxes.
The result – the lender was able to rehab and sell/rent their Chicago properties in a fraction of the time by working with DAWGS.
If you have a need to secure a property, locally or remotely, DAWGS has you covered with their turnkey vacant property security solutions. DAWGS patented steel door and window guards eliminate break-ins and are Freddie Mac and Fannie Mae approved. For more information or to get started, call (877) 883-2947 or Get a Quote today.