Protecting Vacant Investment Properties: Understanding your alternatives to plywood board-up
The role of steel door and window security guards and shutters in protecting vacant investment properties
TAKING YOUR VACANT PROPERTY SECURITY SERIOUSLY
For as long as anyone in the property preservation industry can remember, the answer to how best to protect and shore up doors and windows on vacant investment properties has always been the same:   Plywood.
When a house goes vacant, the first solution is to board the place up. It's understandable. Plywood is an easy choice – it's cheap and readily available. You can buy sheets of it for a few bucks from any large hardware store, and it is easy to handle – just hold a piece up, pop a few bolts into it, and you have a temporary barrier against pests, weather, and intruders.
It makes sense. Plywood over a window or other opening is better than gaping holes and leaving things to chance.
Despite all of its presumable advantages, plywood is not a good deterrent. Pests and invasive animals can easily chew and dig through it, and anyone with a pry bar, a screwdriver, or even a strong kick can make an opening.
Unfortunately, plywood warps and deteriorates over time, and some properties can sit empty for several months to multiple years.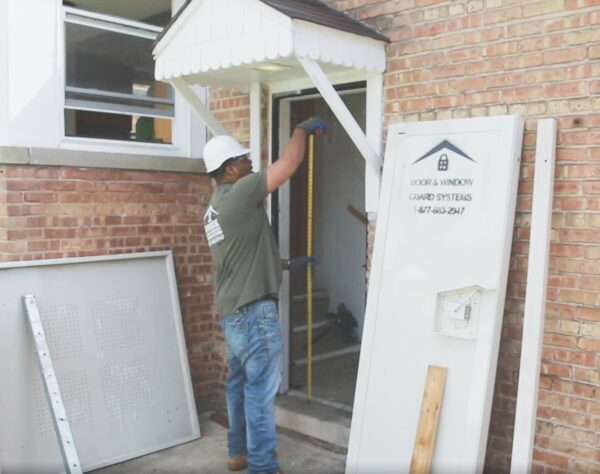 Avoid the Skyrocketing Cost of Lumber
The COVID-19 pandemic has added yet another reason to rethink the use of plywood to secure your vacant properties — the skyrocketing cost of lumber.
Often positioned as a cost-effective option to secure vacant property, this is no longer the case. Rising plywood prices have led to a substantial increase in the cost of board-up.
According to a recent article in Newsweek, lumber prices in the U.S have once again soared from January 2022 to February 2022. In fact, the instability of cost and supply for many raw materials, including lumber, have been one of the only constants since the pandemic began.
To this end, the U.S. Labor Department recently published a report revealing that prices for lumber, including plywood, shot up 25.4% in the month of January alone. While there have been peaks and lulls over the past few years, current lumber prices are still roughly three times more expensive than the average price before the pandemic.
Plywood Board-Up Contributes to Neighborhood Blight
The problem with boarding up a vacant property is that the boards make the property stand out in the wrong way. Whenever you throw plywood up on a vacant property, regardless of the community it's in, plywood puts a big red X on that property. It immediately becomes a beacon for squatters, drug users, and thieves who break in to steal appliances or copper wiring.
Plywood makes it very obvious that no one is home and no one will be for a long time, and aesthetically, plywood just doesn't look very good – even when you put it up brand new, it still looks cheap.
Plywood Board-Up is Bad for Property Values
Let's face it: nobody wants the next-door property to be boarded with plywood.
It's bad for neighborhood property values to have boards up on the block. Some pretty depressing data shows that properties sitting next to boarded houses suffer in value. This, of course, affects investors and mortgage servicers too.
Plywood Board-Up is Bad for Property Preservation and Resale Value
It's hard to sell a house with boards on all the windows because a prospective owner/occupant has a hard time envisioning their future house without the plywood attached and, despite what a lot of people outside the housing industry might think, banks and servicers don't want to own abandoned, boarded-up houses – they want to sell the properties, preferably to someone who will live there. That gets a lot harder to do when the place looks terrible due to plywood and has become a destination for unpleasantness.
Board-Up Does Not Protect the Safety of the Neighborhood
Beyond property values and money, there's a very real safety factor at play for neighbors.
Think about it—if you were to live next to a big red X of an abandoned property, you stand a good chance of that house having unwanted visitors, whether people or animals, hanging around just a few feet from you and your family. In fact, vacant properties generate nearly three times the number of calls for drugs and twice the calls about theft as occupied properties.
All those calls are a significant drain on local police, fire, and ambulance services; and that means more costs for taxpayers.
There are reasonable alternatives to Plywood.
Fortunately, some very good alternatives are available for mortgage servicers and property preservation companies that can keep a property safer than board-up. Even better, these alternatives can even keep it from looking abandoned.
Consider Steel Door and Window Guards for Protecting Your Vacant Investment Properties
For Property investors, property managers, housing authorities, rehabbers, and real estate professionals steel door and window security shutters and panels (also known as steel door and window guards) are the first choice when it comes to protecting their vacant investment properties.
Compared to plywood board-up, steel panels and shutters are a huge theft deterrent. Yes, it does make it apparent that no one is living at the property, but it's a steel wall between the bad guys and the inside. Intruders see it and pretty much know to move on to the next place (which is probably boarded up with plywood).
Of course, steel works extremely well in major urban areas around the whole country and it's becoming more common in higher crime areas, where break-ins and property theft of items and materials left inside a building are more likely to happen.
Steel Window and Door Panel Installation is Quick and Easy
The professionals who install the steel casings on every door and window do it efficiently, and the system works on a rental basis – which means that the company putting up the barriers owns the steel: they come and put the steel screens up and secure them in place until the property is sold or conveyed to the investor. Then the company comes by and removes the steel panels without leaving anything in place even to suggest a wall of steel was once there.
Steel Security Doors and Windows Means You Have An Eye Toward Aesthetics and Resale Value

Plywood is not only unsightly but also unsafe. Banks and mortgage servicers are starting to seek out other options.
Property preservation, rehabbers, vacant property investors, and other companies looking to preserve the image that a property is still inhabited often use steel window and door guards.
The reason for using steel is to protect the property – thus deterring break-ins. This solution also helps to retain neighborhood property values.
Steel is the Choice of REO/Foreclosure Professionals
REO and Foreclosure properties are often targeted for theft, vandalism, and unauthorized occupation. Steel door and window security panels keep trouble out, no matter what form it takes.
Managing a foreclosed property should never be an issue of safety. With steel window and door screens, your vacant property security is no longer an issue, no matter the neighborhood or the property. Steel door and window guards have been used by all types of servicers, receivers, property management, and bank asset managers.
A vacant building is a vulnerable one. Steel gives you the ability to manage your property with confidence and security.
When you manage a foreclosed property, the longer it sits empty, the more vulnerable it becomes. It doesn't take long for intruders to cause catastrophic damage to a building, which is why so many property managers count on steel door and window guards.
Even better, steel security doors and window guards adhere to local property ordinances, ensuring that your properties are always up to code and never at risk for major fines or legal action.
By keeping unauthorized persons out, steel vacant property security screens and doors help you effectively prevent crime, accidents, and damage caused by vandalism and theft. Steel isn't just secure—it's fast, convenient, and simple. When you use steel door and window guards, you can manage more properties and worry less.
Rehabbers and Investors Choose Steel Door and Window Security Shutters and Panels
No Break-ins – Resulting in faster turnaround times, plus on-time, on-budget projects.
Modular – steel door and window guards are modular and can secure openings of any shape and size.
No Lock Boxes or Key Management – high-quality steel door guards offer built-in 4-digit codes eliminating the need to coordinate keys and lock boxes with realtors, contractors, and tradesmen.
No Stolen Tools and Materials – A secure property means contractors can leave tools and materials on the property. This reduces the time and the cost of the rehab.
No Safety Concerns – Once inside the property, doors can be locked from the inside, so realtors and contractors feel safe showing or working on a vacant property.
Favored by Law Enforcement
Due to the ability to protect the home from squatters and drug users, steel is also a favorite among law enforcement officials, who appreciate being able to check for potential hazards before entering.
Preferred by Realtors
Steel also helps agents and brokers show vacant homes, as potential buyers can better envision themselves in the property when plywood isn't interfering with the home's look.
When real estate owners and agents know their property is safe, they can show and sell it faster and easier than ever before. Our door and window guard systems ensure that you're never at risk when you're on the job.
When you sell real estate, confidence is key. When steel door and window guards are in place, Realtors feel unwavering confidence that they are safe, no matter who is or isn't inside. Steel keeps the windows and doors completely sealed, and the only people who can open the door are those with access, so Realtors and investors never have to worry about surprises when you visit a property.
Being alone on a property shouldn't be a risk. Steel door guards have no exposed hinges, handles, or locks, so only those with access can enter the building. That way, clients can tour properties anytime, anywhere without your safety ever being a concern.
Steel door and window guards – A win for everyone
The point is that there are far better options for securing a property than plywood and that there's a right fit for solutions like steel.
Many mortgage servicers and property preservation companies just don't realize there are good solutions that everyone – from the bank to the investors and the neighbors in our communities – will support.
Neighbors and code enforcement officers in localities where steel door and window guards have been used appreciate knowing someone is looking out for the property and ensuring it is safe and livable. When a property is well maintained, it has a positive effect on the rest of the community. It improves the property values in the neighborhood, investors make more money, and everyone is happier.
DAWGS – We are Vacant Property Protection
D.A.W.G.S. (Door And Window Guard Systems) manufactures and rents attractive steel panels (Door and Window Guards) used to cover door and window openings on vacant buildings. Our vacant property security solutions eliminate break-ins and many of the other problems associated with vacant property.
Property investors, property managers, housing authorities rehabbers, and real estate professionals trust D.A.W.G.S. to keep their vacant properties secure.

D.A.W.G.S is more secure than board-up at a similar price.

Full-Service Installation & Removal.

DAWGS Stops Break-Ins.

Protects Property.

Speeds Up Construction.

Who Uses DAWGS
DAWGS door and window guards are perfect for any vacant properties, whether you need daily access or simply the peace of mind that your property is protected. They're for anyone needing reliable, hassle-free vacant property security solutions, including:
If you have a vacant property, DAWGS will keep your building safe.