About DAWGS Inc.
Since 2009, the engineers and real estate pros at DAWGS have been revolutionizing the building security industry, one window at a time. As a leader in Vacant Property Security, our impenetrable, proprietary door and window guards are uniquely designed to prevent theft, vandalism, and occupation.
How DAWGS Works
This is possible because of our one-of-a-kind bracing design system, which effectively eliminates the risk of tampering. Installed by our highly responsive, flexible labor crews, DAWGS stay firmly in place with virtually no risk of being compromised. Our skilled technicians are available on short notice to take down and reinstall guards whenever you need, making security more convenient than ever before.
Who Uses DAWGS
DAWGS door and window guards are perfect for any vacant properties, whether you need daily access or simply the peace of mind that your property is protected. They're perfect for anyone that needs a reliable, hassle-free security solution, including REO Companies, banks, government agencies, public housing organizations, mortgage companies and construction, as well as real estate management companies and property preservation and restoration organizations. If you have a vacant property, we have the DAWGS to keep you and your building safe. Visit our Markets section to see how we can help.
DAWGS Locations
Connecticut
Delaware
Illinois
Indiana
Louisiana
Maryland
Michigan
Missouri
New Jersey
New York
Ohio
Pennsylvania
Rhode Island
Washington, D.C.
Wisconsin
DAWGS Vacant Property Security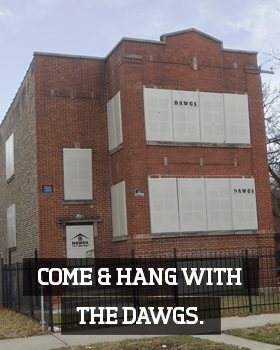 Services
Door and Window Guard Systems for Vacant Property Security
Company
DAWGS Door and Window Guard Systems
,
8770 W Bryn Mawr Suite #1300
,
Chicago
,
Illinois
-
60631
,
Telephone No.(877) 883-2947
Locations
CT, DE, IL, IN, LA, MD, MI, MO, NJ, NY, OH, PA, RI, DC, WI
Service Information
DAWGS manufactures & rents steel panels used to cover door and window openings on vacant buildings. Our guards provide vacant property security to property owners and neighborhoods from the many problems associated with vacant property.
---
Testimonials
"Hands down the best security company for rehab properties!! No other company is more effective with amazing customer service! I should know I sell more rehabs in the Chicagoland area than anyone else. I trust DAWGS to protect my investor's homes. Simply the best! Thanks guys! frankmontrohomes.com"Frank Montro, Chicago's Leading Rehab Broker
Frank Montro Homes
"I don't like having to deal with security issues. When DAWGS handles the security, I feel confident that everything is taken care of. Period."Lawrence Rhum
Senior Workout Officer, Distressed Assets, Harris Bank
"DAWGS products and services have helped us to ensure that we are able to meet our constantly changing needs while saving substantially on security costs."L. Mark DeAngelis, Esq.
Managing Member, DWA Capital Group